Home

>

SHOE STRETCH - ASSORTED SIZES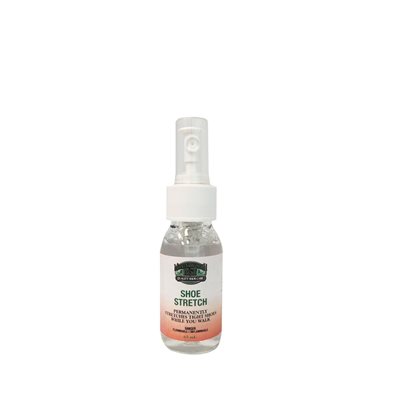 Press and move to zoom.
Mouse over image to zoom.
SHOE STRETCH - ASSORTED SIZES
Product Code: 30601

Permanently softens and stretches tight leather, suede and nubuck to provide a comfortable fit. Helps eliminate stiffness and pinching of new, unworn items by weakening the material, allowing it to stretch in areas where space is needed most. Great for use on shoes, boots, gloves, baseball gloves, sporting equipment and accessories.



Test first on a small inconspicuous area for color fastness. Do not wear item while it is being sprayed. Do not spray product on or near skin.

Shake well, spray the inside of the item towards the area of discomfort. Immediately wear article with a protective barrier in between treated item and skin until tightness disappears. For footwear, inserting a wooden shoe stretcher to apply pressure to the area of discomfort also works well. Repeat if necessary. Do not over-spray or over-saturate.
Do not puncture or incinerate container. Do not expose to heat or store at a temperature above 120 °F (49°C). Deliberately concentrating and inhaling the vapor of the contents may be harmful or fatal. Avoid excessive inhalation. Avoid exposing children and pets (including birds and reptiles) to spray mists and vapors. Use in a well-ventilated area. Irritates skin, eyes and respiratory tract. Do not get in eyes or on skin. FIRST AID: Contains isopropyl alcohol, ethyl alcohol, isobutane and surfactant. If swallowed, call a Poison Control Centre or doctor immediately. Do not induce vomiting. If breathed in, move person into fresh air. If in eyes, rinse well with water for at least 15 minutes. If on skin, rinse well with water. KEEP OUT OF REACH OF CHILDREN.