>

Blog - Boot Shapers: Why do you need them
Boot Shapers
Why you need them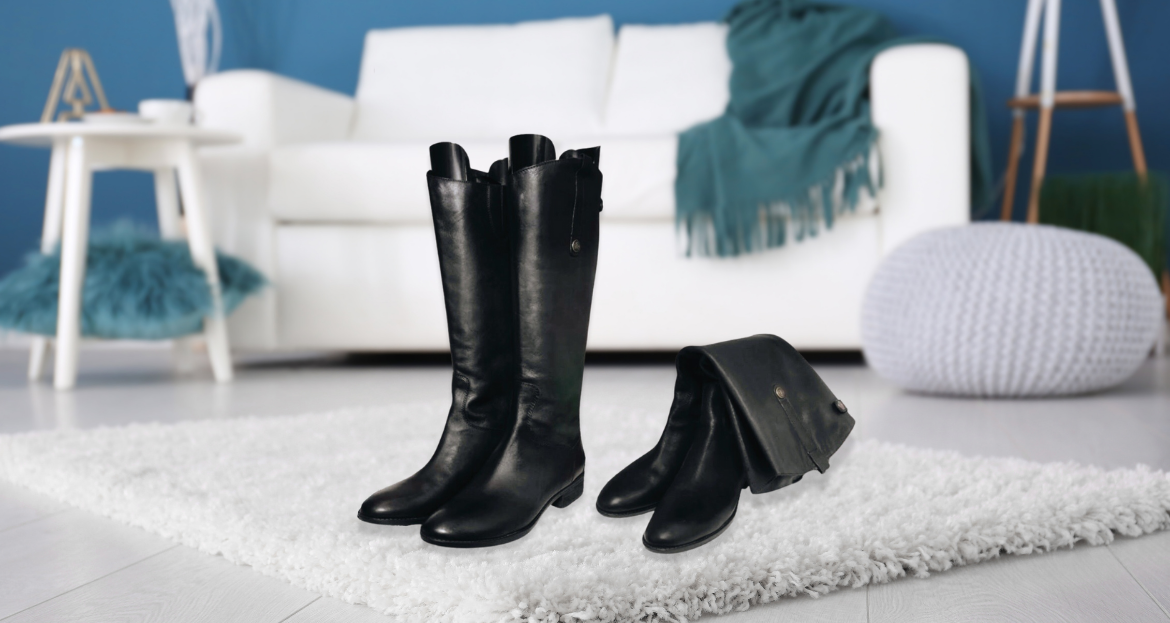 Do you wear different boots in the spring then you do in the winter? Chances are, you do! Do you have a collection fit for each season? What do you do in the months that you keep them at bay before switching styles? Let's talk about that and we will show you a life changing, or rather boot changing trick to keep all your favorites in top form and shape.

IN THIS GUIDE YOU WILL FIND:
1.What are boot shapers?
2.What do they do?
3.Why are they important?
4.Types of Shapers
Boot Shapers – What are they?
Just as the name suggests, simply put, boot shapers, shape your boots. While balling up wads of paper may seem like the best way to keep your boots standing upright when not being worn, a boot shaper will keep the shape of the boot smooth and in form without causing damage, moisture, or mold to spread through the fabric.
What do Boot Shapers Do?
When you go into the stores or purchase your boots online, the one thing you notice, no matter what the material of the boot is, is that they are standing upright and look smooth, straight, and well… perfect. That is because they too are using boot shapers to display their wear. Boot shapers help prolong the life of boots and maintain their original form after each wearing. The shapers will expand to fit the desired form of the boot. The shapers keep boots in upright position. No more pulling out slouched and crinkled boots from the closet. No more wasting time smoothing out and getting frustrated that your boots didn't stand the test of time, or season.
Why are Boot Shapers Important?
Looking into the average closet you will see boots slumped over other boots or shoes. When the fabric flops to the side, this can cause cracks and creases at the crooks of the bend and over time this will cause more damage to the material. We aim to be above average and in doing so have designed some true tested products to make your boot and shoe form easy and flawless to maintain. Using a boot shaper has many important factors: 1.Maintains and supports the original shape and form of the boot
2. Allows circulation of air to allow:
a) Natural drying
b) Keeps natural moisture from escaping to avoid cracking and creasing
c) Keeps any perspiration from lingering
d) Lessens odors from absorbing into the leather or other materials
3. Easy to Use
4. Takes up less space than slumped over boot
5. Prolongs the life of the boot
6. Comes in many options and fashionable colors (we will get to this below)
Choices, Choices and more Choices
We love having choices when it comes to our shoe care. We do know, however that some people have anxiety when there are too many. Keeping this in mind as we aim to please, we have 3 of our boot shapers to outline that will help you decide which height you need, which convenience suits you best and for some fun, a few fashionable color options thrown in.
SIZE: 18" height
Ideal for Mid-calf & Full-Length Boots A versatile boot shaper that fits any size and style of boot. Flexible frame fills boot leg, supporting its natural shape to reduce bends, cracks, and collapse. Lightweight for easy handling, with built-in hanging notch for storage. Ergonomic, spring-loaded T-shape handle makes it easy to insert and remove shaper quickly. Prolongs the life of your footwear and keeps them looking new longer.
How To Use:
1. Squeeze handle
2. Insert shaper into boot
3. Release handle – Boot shaper will conform to the shape of the boot to maintain its shape
Bonus: Available in 7 fashionable colors: Red, Pink, Purple, Silver, Black, Gold
SIZE: 12.5" HEIGHT
Ideal for Mid-Calf and Full-length boots Protect and prolong the life of your boots. Reshapes boots after each wearing and keeps them in an upright position to prevent cracking and sagging. Has a convenient hook to hang boots for easy storage during or between seasons.
How To Use:
1. Press Together
2. Insert shaper into boot
3. Expands to 14cm (5") Wide
4. Retract Hanger to hang in closet or keep standing until ready to use
Bonus: Available in 9 fashionable colors: Yellow, Seafoam, Red, Orange, Pink, Purple, Blue, White, Black
Ideal for Full Length Boot
Protect your boots - keep them looking and feeling their very best. Reshapes your boots after each wearing. Prevents wrinkles, cave-in, and collapse. Spring loaded for easy removal and insertion and doubles as hanging notch for storage.
How To Use:
1. Squeeze the handle
2. Insert shaper into boot
3. Release handle – Boot shaper will conform to the shape of the boot to maintain its shape
CONCLUSION
You know how grandma always said "Stand Up Straight" because it makes you look taller, is great for your posture and aligns your back. Well, this rings true for your footwear too. A Boot Shaper is the equivalent to stand up straight. It keeps your boots tall, keeps the form and everything aligned and ready to go when time to wear again. So let your boots stand tall, stay fresh, stay true to form and simply to keep them looking as fabulous as ever.
SHOP ALL SHOE CARE